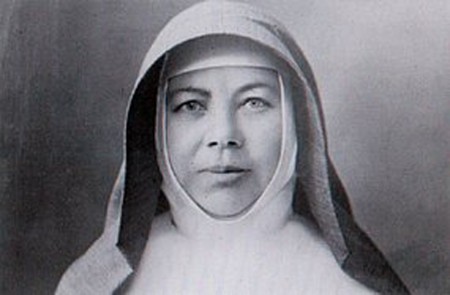 I love a good rebel. especially a good aussie one.
This is my crown of sonnets for Mary Mackillop. A woman of uncompromising values, strength & singularity of vision.
It tells the story of her life & struggle. A brilliant & inspirational story. I hope my poetry does it justice.
8th of August, 1909. 103 years since you left this earthly realm.
I'd say 'Rest In Peace' Mary, but that was never your style…
Instead I'll just say
"thank you"
# A sonnet is basically 14 lines of 10 syllables written in Iambic Pentameter. My weapon of choice is the Shakespearean sonnet. 3 quatrains where the rhymes fall on the 1st & 3rd line & the 2nd & 4th. The end two lines are what are known as a couplet. 2 finishing lines (the 13th & 14th) that rhyme with each other.
# This type of poem is called a Crown of Sonnets. Basically, it's 15 sonnets written in a row. The end line of each sonnet has to become the first line of the next sonnet & then the final sonnet has to be a sonnet that is comprised of the first lines of the preceding 14 sonnets.
# Voveo Nos means 'pray for us' in latin.
********************************************************
Voveo Nos
This rebel born to sweet reforms amaze
This woman that no man will ever tame
This angel touching hearts with saintly ways
This gallant maiden, hallowed be her name
Our Mary walks the walk and fights the fight
This perseverance sets her life apart
Her journey thrust upon the path of light
The passion burns within her sacred heart
She smiles at each awaiting trial and test
A battling brave, the bride of Christ defined
A loving servant dwells within her chest
A skilled tactician lives within her mind
This warrior of heaven fights the holy war
A gentle loving soul within her core
A gentle loving soul within her core
With hearts designed for labour, love and toil
As angels born to spread their wings and soar
To till the common earth of southern soil
Amidst a crisp Australian summers morn
With cloudless heavens shining brightest blue
On January 15th she was born
In Fitzroy, Melbourne 1842
From humblest Scottish folk comes something great
For God has graced this girl with gifts divine
Our Mary born the eldest child of eight
Her Godfather, the kin of Caroline
This youngster's special spirit soon displays
The soldier fighting errant human ways
The soldier fighting errant human ways
Her dearest dream is heaven's great reward
Whilst fending for her family she prays
And counts the days until she serves the Lord
She hears the calling of an inner voice
She longs to help the homeless, hurt and lost
But father's folly leaves her little choice
For meagre earnings barely cover cost
To God one day her life she will devote
But Mary's kin have problems of their own
This girl must keep her family afloat
Before she serves the steps of heaven's throne
With love she keeps the wolf away from door
The resolute protector of the poor
The resolute protector of the poor
Our Mary meets the man who brings the goods
A Priest of virtue, vision, faith and more
The young and charismatic Father Woods
The Catholics condemned, to wolves were cast
The government preferred to teach of tools
In 1851 the law was past
To stop the funding of religious schools
A charming priest, a man of great entice
They share a common theme, a dream to teach
With minds resembling lightning striking twice
Their fusion finds these goals within their reach
Penola, South Australia leads to Rome
This Aussie maiden travels far from home
This Aussie maiden travels far from home
With Father Woods her dreams and visions start
To gain the seal of Holy See in Rome
And found the sisters of the sacred heart
For Julian and Mary have a goal
A dream to freely educate the poor
To bring the word of God to common soul
A holy schoolhouse with an open door
On 19th March in 1866
She's made the orders first and only nun
With problems, monies, rent and schools to fix
The troubled testing times have just begun
For every disease there comes a cure
For love of God and man she must endure
For love of God and man she must endure
For poverty, control and sacred pact
She suffers til' the pain becomes inure
To keep the orders holy vows intact
Endorsed by Bishop Sheil at first
The constitutions doctrine soon incites
The local bishops want control dispersed
Now Mary battles for the Josephites
She steers the path the orders nuns must take
Refusing wisely to negate control
For convents sake, she puts it all at stake
The bishop excommunicates her soul
This course of action leads to Peters Dome
She takes her righteous fight to holy Rome
She takes her righteous fight to holy Rome
A pilgrim seeking blessings from the pope
By boat she takes the journey over foam
The Vatican's support her only hope
Delivering her fervour filled demands
With strength she keeps her visions dream alive
Impressing with the weight of her commands
To see the orders doctrine will survive
For wisdom, grace and guidance Mary prays
Her reverent displays dispelling fears
Convincing Pius of her holy ways
She stays in Europe nearly two whole years
She holds her own, compelling yet demure
A pious woman standing proud and pure
A pious woman standing proud and pure
She stands defiant, shadow looming large
She thwarts attempts to make her dreams obscure
By those that wish to see her not in charge
Though Bishop Quinn expects to rule the flock
A Formidable force he soon will find
This woman's will is forged from iron rock
No tempest, storm or man can change her mind
For Mary forged a path, she blazed new trails
With power, strength and will she took control
Within a church and country run by males
She redefined a woman's place and role
This clever strategist preserves with style
A life of vision, poverty and trial
A life of vision, poverty and trial
A woman of nobility abound
With poise she handles lies, deceit and guile
With quiet dignity she stands her ground
The stones are cast, the accusations fly
In vain attempts to sully Mary's name
With saintly grace she holds her head up high
Whilst falling victim to unfounded blame
As Mother General she's forced aside
And Sister Bernard firmly takes the reigns
But Mary's never one to be denied
She fights to see her vision still remains
An iron fist within a velvet glove
A life of faith, compassion, care and love
A life of faith, compassion, care and love
A life of passion, penance, pain and proof
A walking breathing gift from God above
A living testament to faith and truth
When Mother Bernard leaves this earthly realm
The order soon convenes to make their choice 
Our Mary once again must take the helm
The vote is cast in one united voice
Her spirit strong and true, her body frail
The strain, demand and effort make her ill
Too gallant to accept defeat or fail
She runs on strength of character and will
The ecstasy of God is found in trial
Her struggles met amidst a knowing smile
Her struggles met amidst a knowing smile
The pain within her knees will not abate
She takes her baths to walk the extra mile
Her spirit strong can carry heavy weight
In Rotorua, healing mud anoints
As swollen sinews sting with pulsing veins
The aching hurting deep within her joints
Her ailing body struggles through the strains
This soldier puts her body to the test
She battles ailments with her brains and wits
A mighty muscle beats within her breast
She never gives up hope; she never quits
She stumbles, falls and crawls for church and love
Her life committed to the lord above
Her life committed to the lord above
Her time now ends; she leaves this world divine 
A soul set free, now soars with heavens dove
The 8th of August, 1909.
In grief, the whole Australian nation weeps
Her death is mourned across the countryside
To Mount Street Chapel, where The Mother sleeps
The masses congregate from far and wide
To pay respect to Mother Mary's name
They come to touch her holy hands and feet
Her life adored by rich and poor the same
At Mary's funeral they line the street
The sisters grieve the passing of their boss 
The saint of service, sacrifice and loss
The saint of service, sacrifice and loss
Withstanding pain and crippling joint disease
For love of God and heavens holy cross
This pioneer would walk upon her knees
When grieving hearts are lost within despair
And lives do hang upon the slender rope
When there is nothing left for us but prayer
She hears our calls to God and gives us hope
When shattered dreams from broken hearts are cleft
When life seems cruel and tragedies ensue
When hope is gone and we have nothing left
Within the hour of need, we turn to you
As boats adrift upon the oceans toss
Our blessed Sister Mary of the Cross
Our blessed Sister Mary of the Cross
Within your faith and strength we find belief
We pray to you within our time of loss
We pray to you within our time of grief
O' Mary helper of the sick and poor
With love, we pray for you to cure the ill
Deliver up our prayers to Yahweh's door
And plead our case to God and heavens will
This nation celebrates its holy Saint
She gives us miracles and hears our plight
She walks the roads where lesser hearts would faint
For even after death she loves a fight
Let each Australian child rejoice and praise
This rebel born to sweet reforms amaze
This rebel born to sweet reforms amaze
A gentle loving soul within her core
The soldier fighting errant human ways
The resolute protector of the poor
This Aussie maiden travels far from home
For love of God and man she must endure
She takes her righteous fight to holy Rome
A pious woman standing proud and pure
A life of vision, poverty and trial
A life of faith, compassion, care and love
Her struggles met amidst a knowing smile
Her life committed to the lord above
The saint of service, sacrifice and loss
Our blessed Sister Mary of the Cross
Voveo Nos